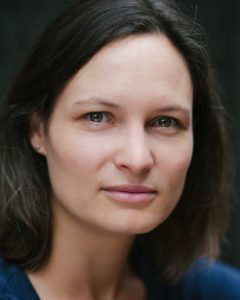 Since graduating from the Actors College of Theatre & Television (ACTT) in 2007, Chloë works as an actor in theatre, film and TV.
Her theatre credits include seven roles in Kiss of the Gallery Guard (Scene Theatre Sydney), Sister Mary Douglas in Through These Lines (TurnAround Productions), Helena in A Midsummer Night's Dream and Luciana in The Comedy of Errors (Shakespeare by the Sea), Julius Caesar (Anthony Skuse), W;t and Cosi (New Theatre), Mongrels and Roberto Zucco (ACTT) and Beatrice (ATYP).
Chloë's short film and TV projects include roles in TV and online series Watch With Mother (The Glue Society), TV series Deadly Women and Out of the Blue, award-winning short film Shift, Taser (Chesterfilm), Sarah Sloane: The Rash (Curl Co Productions), Painful Poetry (Santa Shorts Productions) and Deep End and Boss Assassins (AFTRS).
Her voiceover work includes corporate, commercial and non-commercial voiceover in English and German, as well as IVR. Chloë is currently the voice of the Amaysim Mobile customer service hotline.
Chloë's writing includes a short play Playing Dirty performed at Short & Sweet 2005 and English translations of German plays Threesome Without Simone performed at ATYP and I'm Sorry Dad But I Have To, published in Europe in 2011.
NEWS
August 2018 – Rehearsals for How To Change the World and Make Bank Doing It for the Sydney Fringe Festival start. Buy tickets here.
June 2018 – Night shoot for Deadly Women Season 12.